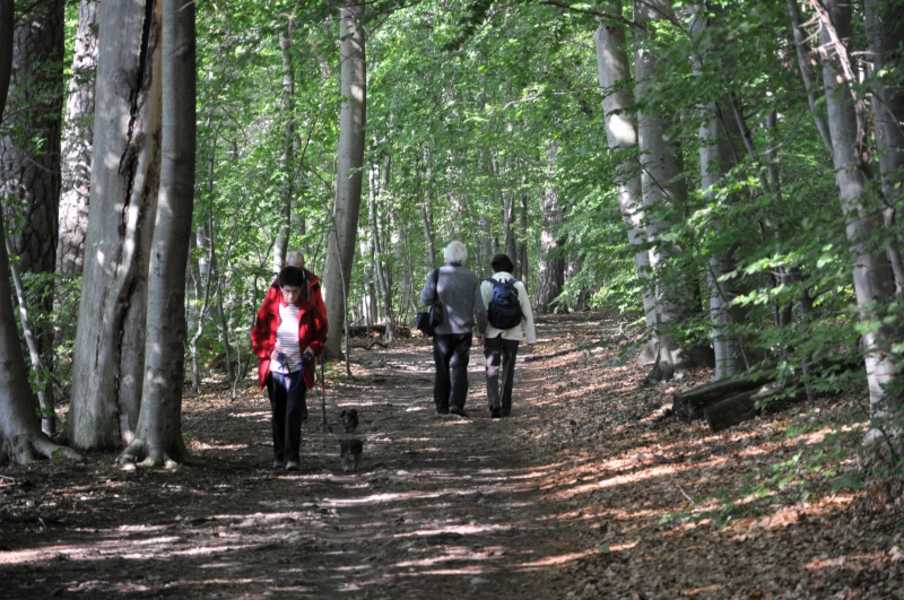 Theodor Fontane made the region famous in his "Wanderungen durch die Mark Brandenburg". Extensive forests, moors and many bodies of water still invite you to slow down today - on day hikes or stages of supraregional tours. The Fürstenberg Lake District with its hilly terminal moraine landscape is crisscrossed by the Ruppiner-Seenland circular hiking trail. It is embedded in the European long-distance hiking trail E 10, which connects Fürstenberg/Havel with Neuglobsow at Lake Stechlin and Rheinsberg. Further stages of the E 10 lead from Dannenwalde (rail connection RE 5) through the clay pond landscape to Zehdenick.

For day trippers, for example, there are signposted routes around the resorts of Neuglobsow and Himmelpfort - they lead through imposing beech forests and past many lakes that characterize the landscape and invite you to swim in summer. The Stechlinsee lake in Neuglobsow, the Roofensee lake in Menz, the Dollgower See lake in Dollgow or the Huwenowsee lake in Meseberg/Baumgarten always follow the edge of the shore.
A new hiking trail leads from Meseberg to Neuglobsow - in the footsteps of Theodor Fontane, past places that served the writer as inspiration for his works, especially for his "Wanderungen durch die Mark Brandenburg" (Walks through the Mark of Brandenburg) and for the novel "Der Stechlin" (The Stechlin). The THEOsWEG is particularly recommended for nature lovers and literature enthusiasts alike. Since mid-2020, hikers have been able to obtain the matching hiking folding map at the tourist information offices in Fürstenberg/Havel, Stechlin (glassmaker's house in Neuglobsow) and Zehdenick. In addition to Fontane's information and quotations, it also includes the stations on the hike as stamping points. Visitors can have their visit to the individual places acknowledged. Here you can also download the map in A3 format and A4 format for walking yourself.
Renate and Klaus Fechner offer guided tours to the beauties of the Stechlin nature reserve. The adventure hikes lead to enchanted moorland lakes, along historic paths through the Polzow Valley or to the legendary "Mordbuche" (murder beech) at Lake Stechlin. For further tour suggestions and tips, please contact the staff at the tourist information offices.